X Driver A Drive Hydraulic Torque Wrench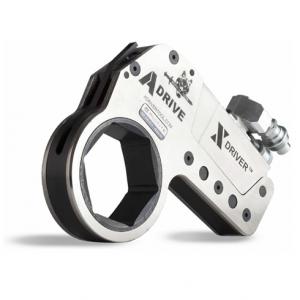 The A Drive is the hex link that allows the system to fit onto hex nuts in low profile applications such as wellheads and BOP's. The ratchet design contains only three parts: the drive pawl, the ratchet and the drive gear. An optional holding pawl that when engaged makes hands-free operation possible, without it, an anti-lock pawl mechanism is available. The A Drive is 75-percent faster than competitor tools.
Also available in the New X Driver SD
IMPROVEMENTS MADE:
Manufactured the swivel out of steel and added a round diffuser on the flange
New pressure relief valve on the outside of the swivel block
Enlarged the top side of the piston shaft in order to create an adequate sized channel which results in the O-ring on the piston to stay in tact and not deteriorate over time
Wider, more durable drive plate that has increased in size
We added metal by taking out the curve
Precision machining of all outside link edges
Reaction forces have been distributed to both side plates with reinforced steel reaction plate
For more information, visit xdrivertool.com.