REV Classic Hydraulic Torque Wrench Pump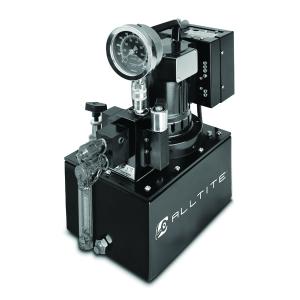 The time-tested REV Classic is Alltite's
most reliable and universally utilized pump.
Electrically powered and completely portable this
pump offers the best weight to performance ratio in
the industry. Trusted universally throughout
industries including construction, oil, pipeline, and
wind, this pump is preferred because of the heavy
duty design, affordability and ease of maintenance.
Available with low voltage option with a minimum
of a 10-foot motor control.
For More Information Download our One Sheet
Performance
Two-speed high performance pump
External adjustable pressure regulator
Can be used for single or double-acting tools
Four-tool manifold allows for use of up to four tools simultaneously (PE55-4)
Lightweight
75 lbs (PE55) / 78 lbs (PE55-4)
Quiet